Dame Haze-Lipstick release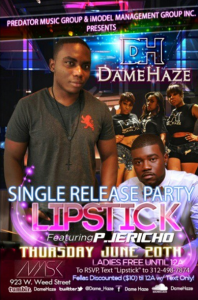 Born and raised on the streets of Kingston, Jamaica, Dame Haze (né: Damian Chaplin) is a hip-hop and reggae artist who has captivated Chicago audiences with his rhythmic flows and multicultural world view. After moving to Chicago at the age of 12, Dame Haze worked to develop his unique style which fuses the soul of Chicago hip-hop with the fire of Kingston reggae, resulting in a mesmerizing blend of dubstep-infused tracks that keep audiences swaying. From a young age, his musical style was influenced by some of his favorite groups and artists, including Bob Marley, Michael Jackson, Tupac Shakur and Daft Punk. His love for music of all kinds–from hip hop to R&B and bossa nova to techno–is reflected in his diverse musical repertoire.
Dame Haze is singed to Predator Music Group. The new single was produced by Sannmantrack (Cello Siggers). After few successful release of "Get to know you" Dame once again features vocals of P. Jericho.